The Hutcheson Gallery 
View from the Bridge: 
History of the Uchuck Vessels and the Lady Rose
Turn back the clock to a time when the principle means of transportation along the West Coast were ships.  Carrying anything that fit on her decks incuding machinery, supplies, and people, the Uchucks vessels and The Lady Rose were fixtures of the Alberni Inlet and the Barkley Sound area for decades.  This exhibit explores the different vessels, their crews, and the undeniable mark the vessels left on our area which are still visible today including the MV Frances Barkley.
Two supplimental interactives can be used to further your understanding of the exhibit:
Barkley Sound Transportation Company Glog
Lady Rose Marine Services Glog
Navigating the Graveyard - The Pacific Ocean is a treacherous and harsh environment with thousands of ship wrecks up and down the coast. Navigating these dangerous waters has been no easy task over the last few hundred years. Discover the newest permanent exhibit in the Hutcheson Gallery - The exhibit explores the history of Navigation through the tools and equipment used by sailors to help them find their way and chart their course. The exhibit will also examine the exploration of the West Coast of Vancouver Island.
A supplemental online interactive made available through the Virtual Museum of Canada is also part of this exhibit:
http://www.pacificshipwrecks.ca/english/index.html

Oceans cover almost three quarters of Earth's surface. They feed us, carry our ships and shape our weather. Within the oceans, biological, chemical, physical and geological processes are unfolding, which we are only beginning to understand.
Connecting to land in Port Alberni, NEPTUNE Canada offers a unique and exciting approach to ocean science. Traditionally, ocean scientists have relied on infrequent ship cruises or space-based satellites to carry out their research. But NEPTUNE Canada is changing this. We're the world's first regional-scale underwater ocean observatory network that plugs directly into the Internet. People everywhere can 'surf the seafloor,' while ocean scientists run deep-water experiments from labs and universities anywhere around the world.
To visit the NETUNE Canada website, please follow this link:
The Lighthouse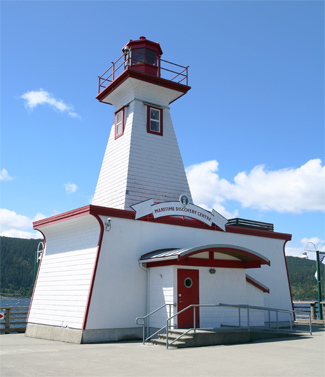 Vancouver Island Lighthouses - Our lighthouse exhibit explores the history of Vancouver Island's maritime safety beacons including the people who lived on these remote islands and some of their unique experiences.  Make sure you get the chance to sound the foghorn and learn a little more about local maritime history.